Explore the geometric nature of reality and unlock your genius.
Join the Da Vinci school today!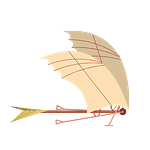 All our knowledge has its origins in our perceptions.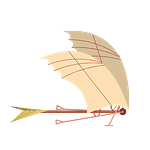 All our knowledge has its origins in our perceptions.
Geometry is the key to Education
Step into the footsteps of the greatest minds of human history, and just like genius Leonardo da Vinci, use a drawing compass and ruler to comprehend how reality works.
We have developed tactile learning methods based on our new discoveries currently being published on in2infinity that will accelerate your understanding of the world.
Our Curriculum
Accelerated Learning
Our Courses
Our Teachers
Our Curriculum
The Da Vinci school integrates the 7 Liberal Arts of the Ancient Greeks to approach various subjects such as chemistry, physics, biology, maths, music and philosophy in an interdisciplinary and creative way. All knowledge is expressed through drawing compass construction.
Accelerated Learning
Our Courses
Our Teachers
Start your geometric journey here with our selection of free courses.
Whether in person or online, our team is bringing conscious connection and inspiring ideas to beautiful locations worldwide. Currently, we are in Tulum, Mexico. If you're in town, come and see us!
Embark on a transformative journey where ancient wisdom seamlessly intertwines with cutting-edge science, all rooted in the mesmerizing tapestry of the Geometric Universe. 
Dive into hands-on learning with our creative Sacred Geometry workshops and courses! Unlock the mysteries of the universe in a fun and accessible way suitable for all ages.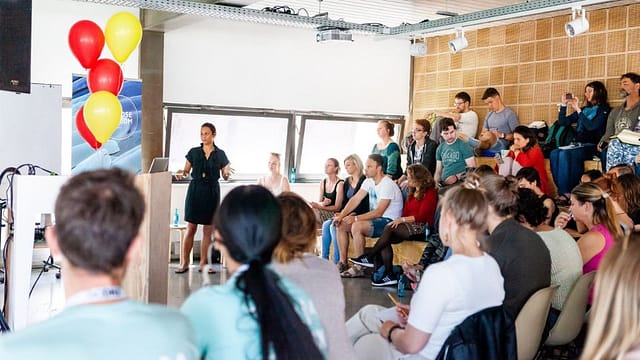 Explore the intricacies of our groundbreaking discoveries and join the discussion as we are solving modern scientific enigmas to unveil deep philosophical insights. 
Embark on an exploration of the interplay between light and sound, delving into the fascinating world of geometry to uncover the intricacies that shape their dynamic relationship.
No event found!
Next : Bacalar, Mexico (19-25th Feb 24)
Gain access to the matrix and change your perception of reality in our immersive retreats, where spiritual practises meet science through art.
The Geometric Universe – Beyond space and time
This book unveils the Geometric Theory of the cosmos, from the atom to the galaxy. Filled with intricate illustrations, it offers a concise exploration of the Multidimensional Universe, challenging our understanding of space, time, and existence.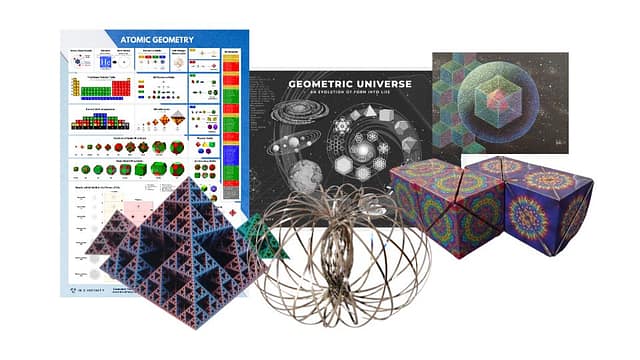 Grab your geometric goodies!
Discover a wealth of inspiration at our online shop! From visually stunning educational posters to captivating geometric mind games and original art, immerse yourself in a collection designed to unravel the mysteries of the Geometric Universe.
I participated in a very mind opening course, which made me answer questions which may have come in my mind but never really had the tools or knowledge to delve deeper into. I find it highly logical, creative and it completely makes sense. It connected all the dots of various fields of study and the curious child in me woke up. I 100% recommended doing any of the offered courses. This is a very unique chance to train the mind in such a fun way.
Honestly, it was one of the most unreal, amazing experiences in terms of how education is shared. This felt like a transmission from the core within to give a full experience. This is very rare, at least for me. It was joyful, creative, touchy, visual... all in one. It just blew my mind. The messages come through in squares, cubes, dots and lines. Geometry and patterns will pop up in your head, mind and heart. Once you start to see, you can never go back!
Geometry is at the root of all arts and sciences, which we can appreciate in different cultures and philosophies of the world today. It gives us a common language which has the potential to unite humanity, understanding what we have in common rather than focusing on what is different between us. I believe that studying the interconnectedness of geometry should be a part of the core curriculum of our youth today. I enthusiastically recommend all courses.
I took part in many geometry classes and I loved them all! As a scientist, I really enjoyed reconnecting with this in a very different and original way, far from the old teaching methodology and much more interactive and enjoyable! The courses are really professional, mixing scientific knowledge with hands on practices, short meditations and other useful applications which makes everything so much more memorable! If you are into science and creative learning, you are at the right place!
I have been a student of geometry long before I came across this platform. But the way the knowledge has been put together was something I found absolutely refreshing and delightful. The content of the workshops is deep enough to feel like a dive to pearl-laden ocean-floor, and the standard of teaching is high enough to make sure that you get hold of some of those precious pearls of esoteric knowledge. If you are interested in understanding deeper and hidden meaning behind geometry and the role it plays in science and symbolism, then look no further!
Learning this knowledge has brought me back to my centre. I felt very buzzy, like a little child that is happy to know the secrets of the universe. I wish this would have been taught in maths class in school. Thank you for bringing me back to wonder, curiosity and bliss with geometry magic. I can recommend these courses for enhancing your spiritual knowledge and comprehending maths and geometry in a unique way.
When I stumbled upon Geometry before I didn't know how to connect and apply it, I was looking at it from a more illustrative point of view. Now, I find more clarity. It made me think about the space around me and how to utilise geometry to compartmentalise my thoughts. That made me super happy. It also reminded me about the infinite possibilities of what we can become. Everywhere is a pattern which connects everything, something that I also could experience through the courses. Thank you!
Join the Da Vinci School community
Get connected to bright and creative minds all around the world and exchange the most fascinating concepts in our world.